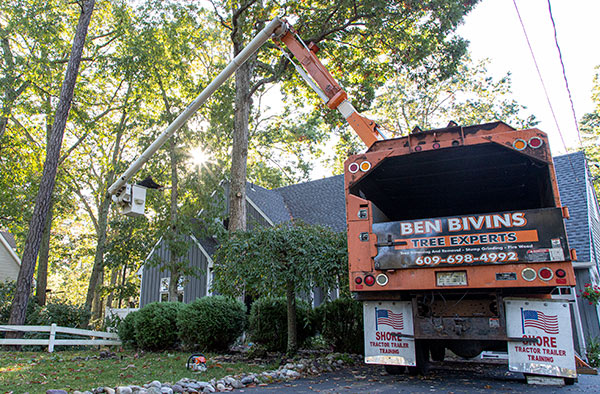 As much as we love trees, sometimes it's necessary to realize when a tree is beyond help. Sometimes a tree is too damaged or diseased to revitalize, or may be posing a liability issue if dead limbs are looming over your home. If this is the case, it's time to consider hiring a tree removal company in Ocean County to address the issue. Dead trees have a weakened support system, and can become an increased liability over time.
We use state-of-the-art equipment and always operate using industry standard best practices, to ensure for a safe and efficient tree removal. When searching for a tree removal company in Ocean County, be sure to hire a contractor carrying the proper insurance coverage. You can put your mind at ease when you hire Ben Bivins Tree Experts, as we carry the appropriate coverage for this type of work. Tree removal can be a dangerous job – don't put yourself at risk by hiring a fly-by-night contractor without the proper coverage.
What sets us apart from other tree removal companies in Ocean County?
When you hire Ben Bivins Tree Experts, you hire a full "turnkey" tree company. We own our equipment and have our own expertly trained employees. You aren't dealing with subcontractors or rented equipment when you hire us to remove your trees. We are a locally owned company and take pride in our work.
Stump Grinding and Debris Removal
Our job doesn't end once the trees have been removed! We also offer debris removal and stump grinding services. Your property will look better than ever once the unsightly stumps have been fully removed and our crew hauls away the remaining debris from your yard.
Ready for your free quote?
When you need prompt, professional service, call Ben Bivins Tree Experts. We go out on a limb for you!
Call 609-698-4992 or send us a message here. If we are busy helping another customer, we'll be sure to get back to you as soon as possible!