I would definitely recommend them
Very professional, gave a good price, came to our property the day that they were scheduled. Arrived on time and the men did an great job and cleaned up all trigs and small branches that were on property. I would definitely recommend them.
Gail B.
Can't say enough good things about this company
Can't say enough good things about this company,they return calls when you call them,give honest prices and do quality work. I will refer them them in the future to any one needing tree service
William C.
They do an awesome job
They return calls show up promptly on time and do an awesome job
John Guardabasso
Delivered what they promised
Took down 13 trees and delivered what they promised
John Horuzy
The best tree service ever
The best tree service ever! They are fast, clean up after themselves! I would use them again if needed!
Jennifer Loucanides
Many thanks for a job well done
Joe , Harrison and Santos did a great job. Many thanks for a job well done. Highly recommend
Tom Ryan
Professional in every aspect
Ben Bivins Tree Experts are professional in every aspect. They removed four trees from my son's property, today. One very large rotten ant infested tree that was towering over electrical lines and my son's roof. They are prompt to respond to inquiry. They show up on time. They leave the property cleaner than when they find it and the quoted price was great! Thank you,
Shirley Lake
Highly recommend!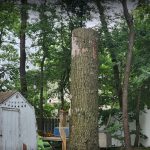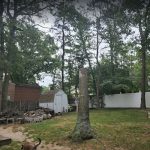 Ben Bivins came and did this dead oak. They did a fantastic job!! Cut everything up nicely into workable sections and placed where I asked. Blew all the sawdust throughout the yard so it wasn't all piled in one area. Highly recommend!
Jay Krez
Very happy with the outcome!!!
This company is great! The guys are very professional and do a fantastic job! I would definitely recommend to anyone! Very happy with the outcome!!!
Skoob
I am beyond thrilled with this company
I am beyond thrilled with this company. They did all that was promised and even went beyond. Nice clean area left behind. Highly recommend!!!!
Valerie Marshall
They were pros
Joe and the crew took down a large dead tree – it was a pleasure watching professionals work – no hacks on this crew. They were pros and did a thorough clean up aa well. Didn't leave a thing behind! Highly recommended.
Richard Bangs
I couldn't ask for anything better
I recently had Ben Bivins and his crew to my home to cut down several large trees in my yard. They all did an amazing job from start to finish, I couldn't ask for anything better. When they were done they cleaned up so well I couldn't tell anyone was ever there, I highly recommend them!
George MacAdam
I cannot be happier once again
This was my second time using Ben Bivins tree service and I cannot be happier once again. They are the most reasonable, cleanest, fastest workers I've ever seen and the most reliable company and they show up when they say they will and do the job right. I highly recommend. Thanks again for an amazing job
Kim Orlando
I will be using them again
VERY professional. Great service, very friendly, and job got done faster than what I had expected. Reasonably priced as well. I will be using them again in the near future. Highly recommended!
Jason Smith
But boy were my expectations blown away
We used Ben Bivins to remove 5 trees on our property; two were small sassafras trees. One large Maple tree, one large oak tree and one large pine tree. The estimate process was quick and easy we had several stumps from old trees and bushes on our property as well. We were very up front with what we wanted done. The estimate given was well below what I had imagined it to cost. I was told ahead of time that the two trees in the front that were on top of garden beds that the river rock needed to be removed prior to our scheduled date. They called me the next day to schedule me for the next week. The whole process day of was seamless. I walked the crew through our expectations. I thought it would be an all day job but boy were my expectations blown away again. A crew of 7 people showed up. And within 2 hours and 45 minutes they took down all the monstrous trees and had all the stumps we asked for ground down. The foreman made it a point to make sure the stumps were ground down far enough so that we could level out our property and plant grass seed. It was also the little things that made it come together. I had pavers put in when I bought my house back in 2018 and had tractor lines right down the front of my lawn. The crew flattened out the beds as best they could, raked and took care of all the debris and used some of the soil to fill in those tracks from the other contractors job. They really left the lawn better than it was when they got there and now I can see my house and there's so much more natural light coming in. The attention to detail was perfect and as long as you are upfront during the quote with what you want done, and make it easy for the workers to perform their job, they will deliver superior service.
Theodore Ray
Amazing job
Amazing job and workers!! Thank you for your services. Highly recommend 👌👍
Melissa Gelenites
Wouldn't use anyone else!
Professional, honest, harding working crew! Did an amazing job. Wouldn't use anyone else!
Katie Olander
They're a great efficient team
We first used Ben Bivins last year to remove a tree in the backyard and trim one in the front. They did an amazing job and were priced the best. Cleaned up everything and you couldn't even tell they were there. This year I called them back to take down the tree in front. Got the estimate and the next day they called me for the appointment. Less then a week out. They arrived early and got to work. Cleaned up like they were never there. A couple days later we cleaned up the stump grindings and found that some of the stump was still left. I did a contact us form on their website late Sunday. The owner had his crew back here Monday morning and the guy went above and beyond between making sure the stump was completely grinded out and then cleaning up. I highly recommend them. They're a great efficient team. Great service. Fast response. And all around worth the price.
Jaclyn Sessa
I recommend this company a million times over
What professionals!! Came right out for pricing and the crew was fantastic, careful, and courteous. Very hard working. I recommend this company a million times over.
Vincent Ferrara
Good price, very professional
Ben Bivins crew did an excellent job trimming branches off 4 trees in my yard. Good price, very professional and scheduled very fast. Thanks Ben Bivins Crew
Ethan Dixon
Call Ben Bivins & know you will get a job well done
Called for an appointment to get an estimate for the removal of 2 oak trees from my rear yard. An appointment was made within 2 days of my call and the Salesman called ahead of arrival and showed up promptly!
I accepted the estimate and the job was scheduled for roughly 2 weeks from the day of acceptance. I got a call from the office 2 days later letting me know they had an opening for the next day, so of course I took the opening. The crew showed up slightly ahead of schedule and got right to work. All of the great reviews regarding teamwork you read are true as this group of guys worked together seamlessly swarming back and forth constantly clearing the sections of tree that the climber was sending down. All work was done in roughly 4 hours and Ricky the crew chief had everyone (including himself) doing a meticulous job of cleaning up after themselves. Everyone on the crew was pleasant and courteous and respectful of our property.
If you are looking to get trees removed you can confidently call Ben Bivins and know you will get a job well done!
Glenn Zuhl
Provided an outstanding service
Ben Bivins Tree company provided an outstanding service. From the estimate all the way to the clean up. They did an excellent job & we're all so nice. They were also great budget wise. There was an issue but Ben (the owner) was quick & efficient at fixing the problem. Ben & his team went above & beyond to make sure I was satisfied with the work that was done. I would recommend them in heartbeat! Can't thank them enough for their extraordinary work & extreme professionalism.
Kellie Davis
The team of workers showed up on time and worked hard
I hired this company to take out several trees from my yard. On the scheduled day, the team of workers showed up on time and worked hard to get the job done. There was, however, some confusion about site clean up. That's where the office manager, Gina, stepped in and saved the day! While the workers did a good job, it's clear to me that Gina is a huge asset to this company – running a tight ship. After all is said and done, I would definitely recommend Ben Bivins Tree Experts.
Holly Carter
I will always be grateful at the fact that I know he's not trying to get over on us
We had Ben Bivins come in October of 2020 to take care of our trees in the yard. We had a pool installed and when the excavation was done it couldn't be completed because of the roots and stumps that were buried. Now let me explain that I work 2 jobs and 6 days a week so my fiance handles everything that is done at the house. I sometimes feel people try to take advantage of her because she's a women and it makes me very nervous. However the one thing I know is that Kenny is as honest as they come. He came, and charged us a very fair price to grind out those stumps and I will always be grateful at the fact that I know he's not trying to get over on my us especially my fiance. Thank you Ben Bivins and thank you Ken for always just being a stand up guy!
Juan Ruiz Jr.
They were also very reasonable and friendly
They were very professional, on time and did a fantastic job at 2 different properties. They were also very reasonable and a friendly, courteous staff.
Janet Bevelheimer
Great job
Great job. Fantastic cleanup.
Doug Harper
Look no further these are your tree guys!!!!
Terrific company!!! Every year I have Ben Bivins trim all my trees in my front yard because they're the best!!! I really love how the cherry blossoms flower in the spring because the trees are so nicely shaped. They're also friendly and very respectful to both my family and my property!!!! Look no further these are your tree guys!!!!
John Butler
I can not say enough about Ben Bivin's team
I can not say enough about Ben Bivin's team. They had a crazy wisteria monster to deal with! They were all so polite, professional and extremely neat. I appreciate the great communication with the office and the quick response from Ben to give us the estimate. I absolutely recommend them.
Holly Pucci
Would Use Again
Ben Bivins team is quick, efficient and did a great job. We had a large tree that was dying taken down. They gave a great price and cleaned up after. Would use again.
Rita Wojturski
I've had Ben drop firewood at my parents place a few times and cut trees at my house…
Always reliable, always fair and he definitely knows what he's doing… Ben started cutting trees and shoving them in a van many years ago… started from the bottom and built a great business! only way that happens is by doing great work and making sure each customer is happy… loved when he told me the story about the early days and his van. Thanks again Ben.. see you around.
Matt Heck
Experts in the business.
Professional & Fair, very dependable
Michael Grimes
I have never experienced a more conscientious crew.
These gentlemen committed to a job, that given the predicted weather, no other contractor would. They arrived as scheduled, finished the job and cleaned up just as the weatherman's predictions came true. Definitely reliable, have the "know how" and fees are well within the industry norm. Definitely would recommend them.
Annette Fernandez
Had some trees taken down
Excellent crew, very professional, great job was done from start to finish! Highly recommend them.
Annmarie Pascale
Thank you so much Ben Bivins and team you guys did an AMAZING job today at our home!
You made taking down 22 trees look easy! Grinded all the stumps with absolutely no mess! You and your team over delivered in every way possible! My husband and I can't wait to refer you! Thank you so much!
Kristi Coelho
Ben and his crew did an awesome job
Great group of guys, and after the cleanup you would've thought they were never here! Also wearing masks, practicing social distancing to make everyone feel comfortable in this odd time. Highly recommend for price, level of service, and ease of doing business!
Anthony Sicilia
Fantastic job.
Clean up was amazing and very friendly! Would highly recommend them!
Meagan Caputo
Excellent service!
Reasonable pricing, friendly and professional. I would highly recommend Ben Bivins to anyone looking for tree removal
Marianne Kirchner
Worked hard to remove stumps even though our landscape is difficult to navigate.
Friendly and easy to communicate with!
Kelly Hnsn
Did our tree in front..
reasonably priced, quick, super nice, they did a great job!!! We will def be calling again for trees in back
Casey Longo
Benny and his crew are true professionals!
Aside from doing an awesome job on cutting and disposal of all our trees , each and every one of them are friendly nice gentleman . It was a pleasure doing business them and at a very good price!
Debbie Geissinger
Service and price can't be beat!
Work and clean-up after was great! Can't even tell that huge trees were taken down. Thank you very much.
Cady Kramer
I had about 6 trees taken down today and not only was the price great, but the guys were awesome!
Took their time and did a GREAT job! I can't believe how awesome they cleaned up my yard after, too. I highly recommend this company. Very fair and top notch work!
Devyn PS
Cannot say enough positive about my entire dealings with Ben Bivins
From making the call to set up an appointment with the sweetest women to take the information, to the young man who came out to give the estimate. It has been GREAT on ALL levels. The day of the job they arrived on time, Ben himself went over what was to be done with me and POOF !!!!!! the six man crew went to work creating light in my yard by removing two trees plus enough dead wood to fill a small country. They cleaned up totally as if they were never here in the first place. Fantastic, terrific, can't believe the transformation to the yard both front and back. Would not hesitate to use this tree service in the future. Thanks for a smooth, precise , amazing job well done.
Gary Walden
Absolutely highly recommend!!!
They came when they said they were coming, and are very particular in they're work!! Will use them again!!
Jane Peterson Mentesana
Had a tree cut by them and they did a great job and clean up.
Will be calling them again for the remaining trees. Ben and crew were great!
Sunny Suzy
Absolutely the best.
Very friendly owners n staff. Very hard workers very professional and left my yard spotless when leaving. Highly recommend
Bob Kerrigan
These guys are awesome.
Polite and respectful. Unbelievably quick and cleaned up perfectly down to the last leaf that fell from the trees they removed. This company is lucky to have such great employees representing them. Thanks
Jason Rigby
Very professional.
Crew swept up everything and the men were friendly and helpful. My husband forgot to move a couple of plants so I asked one of the guys to save me a couple of plantings, he said no problem and dug them up.
Betty Novak
Fantastic workmanship; professional communication.
We were extremely pleased with the tree service and have recommended Ben Bivins Tree Experts to several friends.
Janine Howley
Fantastic!!
Great job. Cleaned up so well you wouldn't even know they had been there. Fast. So reasonable & the nicest group of guys !!!
Kris Franks
Quick replies to phone calls asking for an estimate
Fair pricing, very good service when they took down a tree (in the rain no less!). Had to wait over a month for their busy schedule for removal, but it wasn't an immediate need, so I understand waiting. Overall great experience with them, especially when others don't return phone calls for estimate
Tracy Haferbier
Ben Bivins tree experts have cut down 4 trees in total on 2 separate occasions at my home.
Their crew is profession, get the job down effectively and do a great clean up.
Highly recommend!
Maite Bonilla
Can't say how pleased I am with Bivins tree service.
The crew was nothing but courteous and professional they all work together and cleaned up every little thing, I highly recommend them!
Susan Appleton
Great crew.
Hard working guys and very safe. Best in the business. Thank you!
Robert Szablewski
Everything about them is Awesome!!
A crew of 7 did my job so everything went smoothly and quickly. The clean up job they did makes my place look better than when they started! All the workers were friendly and respectful. Will be using them again. Thanks guys.
Highly recommend.
Professional, reliable, honest and very reasonable.
Excellent!!
Cathleen Turi
Ben Bivins Tree Service is amazing!
They removed a tree that was tipping toward our house after a storm in a very timely manner! They really worked with us and were extremely professional and timely. Thank you Ben Bivins! Highly recommended!
Erin McCrea
Absolutely great!
Owners n workers very friendly, hard workers I was truly impressed on their workmanship I highly recommend these gentlemen!!
Robert Kerrigan
Great job!
Fair price for multiple trees and stumps ground below grade. Cleaned up well, could not ask for more.
Matt Cadden
Professional, friendly, and very fair prices.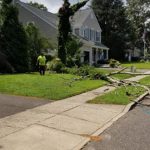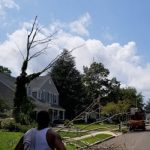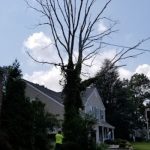 Professional, friendly, and very fair prices. Simply the best!
William Werntz
If I could give the entire team 100 stars, I would.
I am new to the area and our home had literally about 15-20 trees and bushes that needed to come out. I called and met with 3 different companies in the area, and the second I met Kenny, I appreciated the down to Earth, no BS, honesty, that he had so I decided to go with him. These men showed up at 7:30am and I watched in amazement at how these men hustled until 6pm to get everything done and then cleaned up. There was not one bit of debris left when they were done. This speaks to the work of this company, and now to the integrity, which to me is most important. It speaks volumes when a business knows that they could make more money off you but decide to give you a great price, because they want the business. It speaks volumes when a crew shows up of all races and ages and every single one shows you nothing but respect and treats your property like it's their own. The owner Ben, prefers business over price because to him, it's about keeping his staff employed and paid all year round. Isn't that what it's supposed to be about? Ben Bivins is the way to go!!
Melissa Mazzaro
Ready for your free quote?
When you need prompt, professional service, call Ben Bivins Tree Experts. We go out on a limb for you!
Call 609-698-4992 or send us a message here. If we are busy helping another customer, we'll be sure to get back to you as soon as possible!